.
.
| | |
| --- | --- |
| | SEMINARS |
I offer customized Seminars to clients according to their needs.

The Seminars are "working seminars" where you'll learn skills of time management and organization. Work plans and solutions will be formulated.

Individual and Group consultations are available after each Seminar to maximize learning and function.

If you are interested in having me conduct a Seminar in your area or for your company or personal needs, contact me any time by Telephone ( 801-916-1854 mst) or Email (manageyourmess@yahoo.com) for more details.
Home | Time Management | Organization | Seminars | Before&After | Ask Julie
CONTACT: <ManageYourMess@yahoo.com>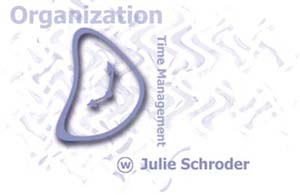 Website and Graphic Design by Candie's Peppermint Graphics
© 2000 Candie A. Witherspoon
ALL RIGHTS RESERVED.